The Arts of Healing Gala
The Arts of Healing supports children with cancer through creativity. I am so grateful to be one of the many talented doctor artists/instructors. At the gala, held in November 2021, all the childrens' paintings were sold to raise money for the Sunshine Kids.
Click the picture to see more!
---
Women in Medicine Fashion by The Arts of Healing at Tootsies
In April 2022, i stepped out of my comfort zone on the runway to support a cause close to my heart. Many thanks to The Arts of Healing for inviting me.
Click the picture to see more!
---
Saks Fifth Avenue Fashion Show
This fashion show was in collaboration with Saks Fifth Avenue supporting the annual Pratham luncheon- Dec 2019. It is a true pleasure and honor to support the Pratham Women's Entrepreneurship program at the Pratham Houston Holiday luncheon on Friday, 6 Dec at the Houston Junior League, where the stunning garments from Saks Fifth Avenue and my jewelry will walk the runway. This is an invite only event. Jewelry: mine Clothes: Saks
Click the picture to see more!
---
Bella Rinova Trunk Show
Thursday, November 7, 2019 10:00 AM - 6:00 PM Bella Rinova Salon 4444 Westheimer Road Suite H200 HOUSTON, TX 77027 I look forward to seeing you at the beautiful Bella Rinova Salon in Riveroaks for my trunk show on Thursday, 7 Nov, from 10 am to 6 pm. Each of my creations is named, and packaged with love in a beautiful leather box with a note hand-written by me, describing the experience that birthed that creation. It is my hope that my wearable art will make meaningful holiday gifts for yourself or another, and will be treasured for generations to come.
Click the picture to see more!
---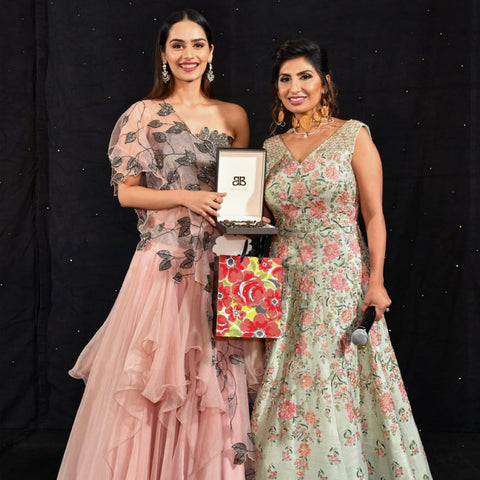 Gifting My Creation to Miss Universe
At the Magic Bus Benefit Gala in Houston on February 9th, I was pleased to give away one of my own necklace creations to Miss World, Manushi Chhillar. This organization is near to my heart, as it provides educational and enrichment opportunities to underprivileged children and young adults in India. I am delighted to have had the chance to share this moment with all who attended this important gala and am honored to have met Miss World and gifted her a piece that is close to my heart. All around, this night was full of benevolence and charity, and I am proud to be a part of the efforts of this great organization.
---
"Valloria Door" Painting Featured in Italian Calendar
I am excited to share that the door painting I so lovingly worked on in Italy has been featured in a 2019 Valloria calendar titled "Paese Delle Porte Dipinte". Translated to English, this phrase means "The Land of Painted Doors". The calendar features unique, one-of-a-kind doors that have been painted in a range of styles and colors. I love the symbolism that doors give, and painting on one adds yet another layer of meaning. Doors represent both new beginnings as well as the end of a chapter. They are the perfect symbol to be used in a calendar, which marks the passing of time. I am honored for my work to have been featured for the month of March among other talented artists.
Click the picture to see more!
---
Journey through Impressionism
Monet's Gardens in Giverny, Normandy sunflower fields, Rouen cathedral and the cliffs at Etretat.
In the summer of 2022, I embarked on a journey, with my paints and canvases to understand impressionism on a deeper level. The journey started in Montemarte, and the Orsay and Orangerie museums in Paris and took me to Monet's gardens and house in Giverny. From there I went to the Rouen cathedral, the sunflower fields, Cliffs of Etretat, Mt St Michael and culminated at the historic inn in La Ferme St Simeon in Honfluer, where Monet and other impressionist artists resided. It was a surreal experience to say the least. Along the way I stopped at various enchanting spots to let the inspiration out on canvases. The highlights of my trip we're painting in Giverny and along the cliffs of Etretat.
Click the picture to see more!
---
Letting the brush strokes flow in beautiful San Miguel de Allende, Mexico
San Miguel de Allende, Mexico.
Click the picture to see more!
---
Houston Sweethearts Event
I am so humbled to be honored alongside some amazing women as a 2022 Houston Sweetheart. Many thanks to the fabulous, original Houston Sweethearts, Warner Roberts , Sylvia Forsythe, Anne Carl, Deborah Duncan, Kim Moody, and Alicia Smith.
Click the picture to see more!
---
Gifting Jewelry Inspired by Houston Socialite Lynn Wyatt
Inspired by her charm and grace, I crafted "Divine Grace" with Lynn Wyatt in mind. She has an honest, deep, guttural laugh that instantly lightens her surroundings. She's sharp as a tack with whit like a whip. She is Houston royalty, and it was Divine Grace that brought us together. She has been an inspiration to me for so many years and I feel so blessed to have finally met her.
Click the picture to see more!
---
Learning Lamp Work October 2019
The glass creations for the Murano glass collection were made by me at the Berengo Glass Studio in Murano, Italy. Grateful to Adriano Berengo for this experience of a lifetime.
Taught by: Chiara Lee
Click the picture to see more!
---
Learning Pottery in Greece
Teacher: Giannis Vlantonopoulos Location: 1260 Ceramic studio on Santorini island, Greece
Click the picture to see more!
---
Learning Azulejo Tile Making
I learned to make Azulejo tiles in Lisbon, Portugal
Click the picture to see more!
---
Amita's Interview with Anu Mahadev
From the beginning of her medical practice to the inspiration for her jewelry, Amita Bhalla discusses it all with Anu Mahadev. Click here to learn more about what makes these unique, beautiful pieces come together, as well as the creator herself.
---
Talk about your brand
Use this text to share information about your brand with your customers. Describe a product, share announcements, or welcome customers to your store.
---